6min read
Published: March 18, 2020
Views: 337
How and How Often to Clean High-Touch Points in Your Home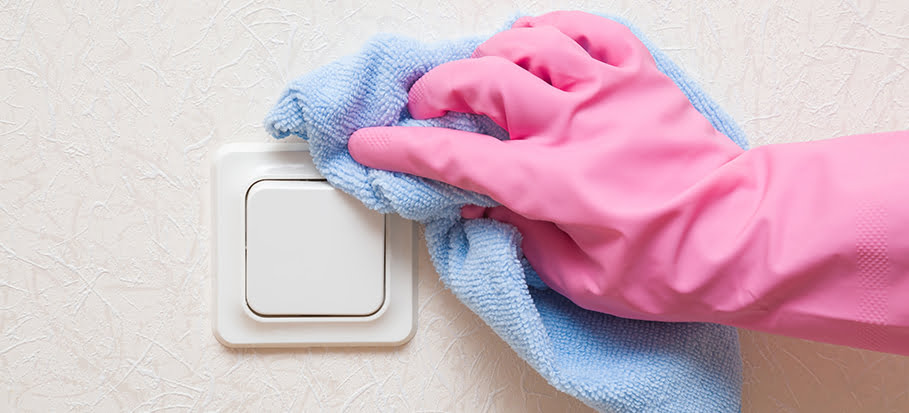 With germs crawling all around the world, wouldn't it be nice if we were safe inside our own homes? Well, if you don't take proper care of your house, you might find that there is more pesky bacteria lurking in there than you might like.
Worry not! The Fantastic Services team is here to help you on your quest to a germ-free home. In this post, we will show you how (and how often) to clean the most high-touch points in your home.
Table of Contents:
So, if you:
Want to be prepared for flu season;
Want to learn which parts of your home you should clean and disinfect;
Are looking for tips on how to maintain a clean living space,
Then look no further! This post has the answers.
What to use
When talking about disinfection, it's important to note that simple household cleaners won't do a good job. Knowing the difference between cleaning and disinfecting can help you decide what products to use, depending on the result you want to achieve.
To put it short, cleaning is the process of removing germs, while disinfecting is the process of killing them.
To disinfect your space, the CDC recommends that you use products that contain chlorine, alcohol, hydrogen peroxide, detergents and iodophors.
If you opt for a commercial solution, Clorox and Lysol are some of the most effective disinfectants. However, when using commercial products, always check the label and follow the instructions exactly. Make sure to check how long the disinfectant needs to sit to be effective – most often around 4-5 minutes.
If you decide to use bleach, take care to dilute it properly. According to Dr Shannon Bennett, bleach needs to be diluted in a 3:100 ratio to be effective.
Both hydrogen peroxide and alcohol can be used to effectively disinfect your space and kill germs. If using an alcohol-based cleaner, make sure it has at least 70% alcohol content.
All rooms
When disinfecting your home, it is important to really pay attention to the most commonly touched objects. Put your cleaning gloves on, grab your product of choice and take care of these areas:
Doorknobs
Light switches
Drawer handles
Handrails
How often to clean high-touch points: You should clean these high-touch points at least once a day.
Sanitising electronics
Today, most of us are in almost constant contact with our electronic appliances. Your phone and computer are probably a huge part of your day to day life and, naturally, they require some tender loving care, too. So, make sure you regularly disinfect your:
Phone
Laptop or personal computer
Remote control
Computer mouse
Computer keyboard
When sanitising your phone, be careful what products you use. Most smartphones have sensitive coatings that can get damaged by harsh chemicals. To learn how to properly disinfect your phone, check out our helpful blog post on the matter.
How often to clean your phone: Aim to disinfect your smartphone daily.
When cleaning your laptop or computer, make sure everything is turned off and unplugged. Steer clear of common window and kitchen cleaners. Remove crumbs and dust with a can of compressed air. To sanitise, you can use disinfectant wipes or a cloth dipped in isopropyl alcohol. Use the same product to clean your keyboard and mouse, as well.
How often to clean your computer: Try to clean your laptop or computer and its peripherals at least once a week.
To clean your TV remote control, remove the batteries first. Wipe the whole remote clean with a cloth and some rubbing alcohol. You can dip a cotton swab in the alcohol to clean around the buttons. Once the remote is completely dry, replace the batteries.
How often to clean your remote: You should sanitise your TV remote control at once every two to three days.
Want your home professionally sanitised?
See how our antiviral sanitisation service can help you.
Cleaning the bathroom
Unsurprisingly, your bathroom is one of the dirtiest places in your home. It is full of germs and other bacteria. So, don't forget to clean these points of contact regularly:
Faucet handles
Sinks
Tubs
Showers
Toilets
Hand and bath towels
Bleach, hydrogen peroxide or another commercial disinfectant will do a good job at sanitising your bathroom. Disinfectant wipes can be used to clean faucet and toilet handles easily.
How often to clean faucet and toilet handles: Disinfect these high-touch points at least once a day.
How often to clean sinks, tubs, showers and toilets: While you should wipe these areas daily, aim to disinfect them at least once a week.
How often to clean hand and bath towels: Towels should be changed and washed once a day.
Sanitising the bedroom
You spend a lot of time in the bedroom when you're sick, and the place where you rest teeming with bacteria and germs is not a pleasant thought. Don't forget to take care of these parts when disinfecting your home:
All hard surfaces
Nightstands
Bedsheets and pillows
A commercial disinfectant or an alcohol-based product will effectively sanitise the hard surfaces in your bedroom.
How often to clean hard surfaces: Wipe them clean daily and aim to disinfect them at least once a week.
How often to clean bedsheets: You should throw your bedsheets and pillowcases in the washing machine every day during flu season.
Disinfecting the kitchen
We spend a lot of time in the kitchen and, naturally, the place where we prepare food and gather for dinner should be kept clean and free of germs. Especially while the flu is going around! So, take regular care of these areas:
Tables
Countertops
Stove knobs
Hand towels
Microfibre cloths
Hard surfaces should be cleaned with products that are safe for the material. So, always check first before using harsh chemicals. In most cases, rubbing alcohol or a commercial disinfectant should be enough to sanitise them.
How often to clean hard surfaces: Give them a daily wipe down and disinfect them once every two to three days.
How often to clean stove knobs: Stove knobs are one of the most often touched parts of your kitchen, so clean them daily with a disinfectant wipe.
How often to clean hand towels and microfibre cloths: You should change your towels and cleaning cloths and throw them in the washing machine daily.
Maintenance tips
There are several steps you can take to keep your home cleaner and free of germs and viruses this flu season.
Change and throw your clothes in the washing machine or laundry bin as soon as you get home.
If you wear eyeglasses, disinfect them daily.
Avoid wearing shoes inside the house.
Disinfect your carpets, too.
Wash your hands regularly for at least 20 seconds – after going to the bathroom, before and after you cook, as soon as you get home, etc.
Give all high-contact points a quick daily clean with a disinfectant wipe.
Need help disinfecting your home?
If you aren't sure you can do a good enough job by yourself, you can turn to the professionals. Fantastic Services offers you a reliable antiviral sanitation and cleaning service that will keep your home safe and your family healthy. The experts work with a certified antiviral detergent that minimises the risk of infection.
Stay safe – learn more about our antiviral sanitation service here!
Learn more
Takeaways
The highest-touch points of your home should be disinfected daily.
Don't forget to clean your electronics, such as your phone, computer and TV remote.
Take care and prevent bringing germs into your home by changing out of your clothes and taking off your shoes as soon as you come inside.
Change and wash your hand and bath towels, cleaning cloths and bedsheets daily.
To effectively disinfect your home, use products that contain chlorine, alcohol, hydrogen peroxide, detergents or iodophors.
***
Did you find this post useful? How often do you disinfect your home? Let us know in the comments!
Last update: August 20, 2021
Posted in All Articles, Cleaning Guides, Sanitisation Tips
Fantastic Services is your one-stop shop for 25+ professional home cleaning and maintenance services, provided within Australia. Using high-grade equipment that is inaccessible to everyday households, the dedicated service specialists will gladly go the extra mile to turn your home or office into something truly special.