Home and business pest control by local exterminators
Call in the professionals to resolve pest infestations before they get worse.
Complete your booking with two additional checks to guarantee pest removal
Eco-friendly and proven methods
Service includes advice on future pest prevention
Work completed by trained technicians
Quick online booking for Braeside pest control
Log in and enter your zip code
Enter your postcode to be able to see local coverage of our pest control service.
Explain your pest problem
Describe what you've seen, heard or smelt. This helps the pest professional to identify the pest more quickly.
Book your pest exterminators
Pest control experts are available seven days a week, so you can be sure about rapid help whenever you need it.
Sit back while your service happens
You're done! Your appointment is ready. A pest control expert will be on their way to your property at the time you've chosen.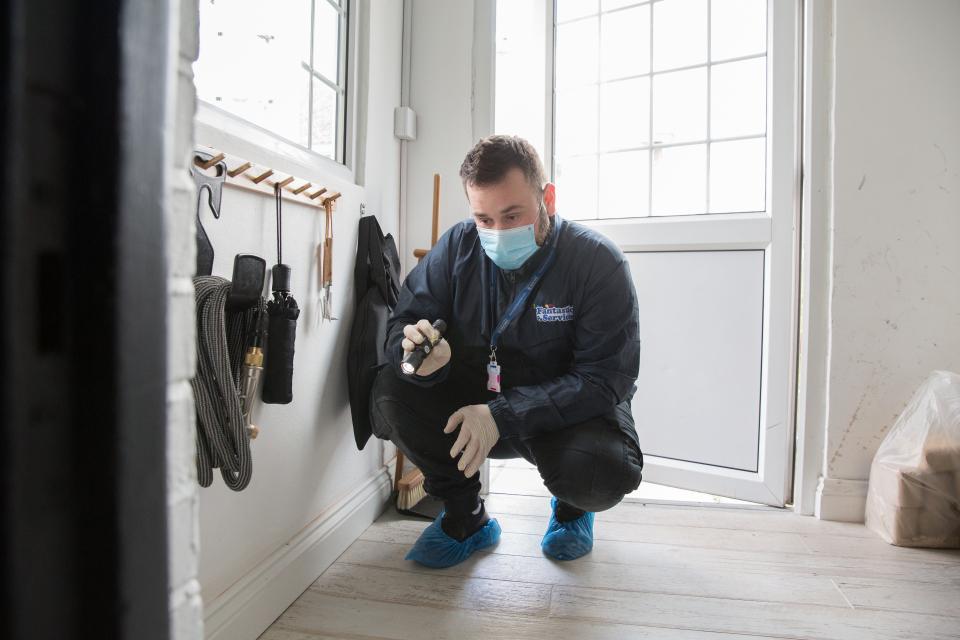 Some of our pest control services in Braeside that clients need the most
Termite control
Leave the elimination of a termite infestation to the knowledgeable pest exterminators at Fantastic Services! Termite control usually involves more than one visit and treatment with the use of professional insecticides and monitoring stations. Termite prevention is also important, so our experts will gladly advise you on the matter at the end of your termite control session.
Rodent control
Rats or mice carry a range of diseases affecting humans. They breed rapidly and if you've seen signs of a single rodent there's a good chance that there are more. Rodents are also vigilant and laying baited stations that will attract them requires a degree of understanding of their behaviour. The pest exterminator will assess the infestation, lay rodenticides in appropriate locations and assist and advise on sealing holes where the rodents gained access.
Bed bug treatment
Domestically available insecticides may not work on bed bugs as they are immune to many commonly used chemicals. Certified technicians stay current on effective formulas and use professional compounds which will kill these beasts. Treatments to exterminate bed bugs generally need to be done in two rounds. The first round kills adults, the second is completed 2 or 3 weeks later to kill any eggs that have hatched since the first visit. Your technician will also advise on measures you should take to maximise the efficiency of bed bug control.
Wildlife control
Pigeons, squirrels or possums can set up homes in attics and other inaccessible spaces. Some vermin could even cause structural damage to your property, while others act as disease vectors. Our pest controllers will set humane traps to capture the animals. Once caught they are either removed from your property or, if required by law, released near the capture point. Your professional will also assist or advise on sealing your property so that released wildlife can't return.
The steps we take for pest control in Braeside
Pest control services are available seven days a week, so you get the help you need, fast.
Survey. On the day of your service, the pest control technician will inspect the affected areas to determine the severity of the infestation. They will try to identify any possible entry points. The expert will then advise you on the best treatment.
Pest treatment. The most effective solution will then be applied, whether it involves setting up baits or traps, spraying surfaces with approved insecticides, or simply placing a pest-deterrent product (ex: humane nets against pesky pigeons). Note that you may need to vacate the property during certain treatments for safety reasons.
Follow-up monitoring. Depending on the service you've chosen the technician may return to evaluate the effects of treatment or you may be told how to assess this yourself.
Prevention. It happened once. You don't want it to happen again. The technician assists with pest-proofing or advises you about measures you should undertake to make your property less accessible to pests.
Why book pest control in Braeside by Fantastic Services
We value our clients and constantly improve our solutions to ensure your satisfaction and safety! Besides an easy online booking process, you also get the following benefits when booking with us:
Safely administered pest control - The person who comes to your property will be a trustworthy individual, competent to assess and resolve pest iissues.
Health and safety matter the most - Pests are resistant to many pesticides available for non-professional use, so professional formulas work better.
Get more with the Fantastic Club - As a Fantastic Club member, you'll also qualify for priority booking and an on-time arrival guarantee.
Treatments inside and outside your property - From dealing with rodents, possums and pesky birds to effectively eliminating insect infestations, we've got you covered.
*Data has been extracted from our internal database for the past 12 months
You can become a member of the Fantastic Club today and take advantage of all the amazing benefits that come with it, including discounted rates and special offers.
Real pest control quotes from Braeside:
Can I please book an pest controlled to come out to clear one of my NDIS participants properties as they currently have mice in their ceiling? It's a small house - one bedroom
. Thanks.
...

More
Service: Mice control
$235
Move in pest control
Hi, I need a pest control service as a prevention for the new house I am moving in. Please send me a quote with an FC discount for in and out treatment. Include also available
slots for next Monday and Thuesday. Thank you.
...

More
Service: Pest control
Hi, We have seen some wasps in our yard (I saw 2 the other day flying around and then 2 again this morning) and our neighbours have had you check their yards for nests - we w
ant to get ours checked too.
...

More
Service: Pest control inspection
How much does a pest control service in Braeside cost?
The average cost for professional pest control in Braeside is $316.
Almost 75% of our customers in Braeside request a second (follow-up) visit.
1 in 5 customers becomes a member of our Fantastic Club and enjoys countless benefits!
Nearly 40% of our customers combine their pest treatment with a cleaning service!
*Data has been extracted from our internal database for the past 12 months
Start your own business in Australia
Interested in starting your own franchise? If so, Fantastic Services offers an affordable and easy way to expand your business. We started as a small cleaning business but we have grown into a global network of 500+ franchises. With the growing demand for property maintenance services, Fantastic Services has grown to a worldwide presence. We offer you a full range of technical and marketing support. And our main goal is to turn you into a millionaire through our proven business model. Learn more!
Braeside pest control working hours and coverage
Local line: 1300 233 268
Email: braeside@fantasticservicesgroup.com.au
Local office: Braeside
Working hours
Monday

8am - 6pm

Tuesday

8am - 6pm

Wednesday

8am - 6pm

Thursday

8am - 6pm

Friday

8am - 6pm

Saturday

8am - 6pm

Sunday

8am - 6pm