Pest control services in Chelsea
Find a full range of pest control solutions delivered by certified and reliable exterminators.
Big discounts for Fantastic Club members
All products used are family-safe and eco-friendly
Discreet service opportunity
Use our online platform to check availability in real time
Book your pest professionals online in seconds and enjoy a pest-free life!
Start by giving your location
This will enable us to connect you with local pest control technicians and show you their current availability.
Describe the pest problems you have
Describe what you've seen, heard or smelt. This helps the pest professional to identify the pest more quickly.
Choose a time slot suitable for you
You can schedule your pest control service for any day of the week in real-time, including on the same day.
Your pest control is on the way
Our pest control professional will arrive on the appointment day to inspect your situation and tackle your pest situation.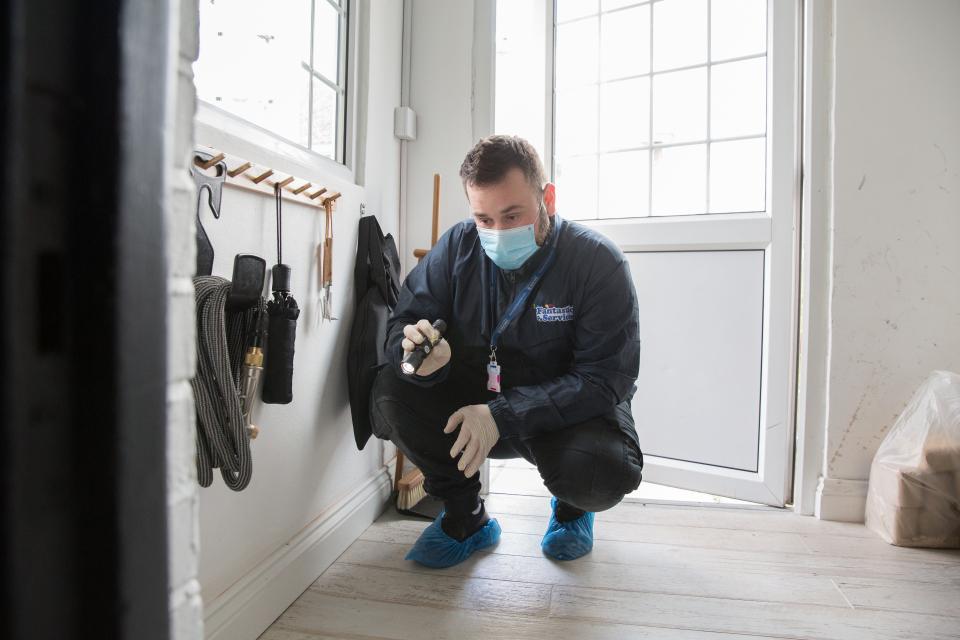 The pest control in Chelsea that homes and businesses can trust
Rodent control
Schedule our mice control or rat control service to put a stop to the destructive activity of the pesky rodents! You probably know that rats and mice can cause property damage, contaminate surfaces, ruin stored foods, chew on cables and gnaw on wooden structures in your home or place of business. Most importantly, the vermin can carry diseases. We use traps and baits that will successfully eliminate a rodent infestation of any scale.
Bed bug control
Domestically available insecticides may not work on bed bugs as they are immune to many commonly used chemicals. Certified technicians stay current on effective formulas and use professional compounds which will kill these invaders. Treatments to exterminate bed bugs generally need to be done in two rounds. The first round kills adults, the second is completed 2 or 3 weeks later to kill any eggs that have hatched since the first visit. Your technician will also advise on measures you should take to maximise the efficiency of bed bug control.
Spider control
Spiders have a role in controlling the population of smaller insects, but if your property has too many, or too dangerous kinds, or if you're simply spider-phobic, our spider extermination service is perfect for you. Spider control can be delivered inside your property, in your yard or garden and in any other building you may need it. Our spider experts have all the right tools and solutions to successfully eradicate a spider infestation and ease your anxiety.
Insect control
Wasp nests in the garden, cockroaches in the kitchen, bed bugs, ant invasions, or any other kinds of flying, crawling, biting or stinging insects. A trained and qualified pest exterminator will select from a range of advanced pest control solutions, choosing the one that will get rid of unwanted guests in the most efficient and safest way. In a short time, your home will be returned to a sanitary condition and you won't have to worry about bites, stings, structural damage or insect-borne diseases.
See how our pest control services in Chelsea work
From a thorough pest inspection and effective treatment to detailed reporting and proofing advice, our all-in-one vermin removal services is what you need!
Inspection. The pest control specialist will start by performing a detailed survey of the infested area. The type and level of infestation will be determined and all possible hiding places will be identified. The pest control technician will then be able to decide on the most appropriate treatment.
Intervention. Once the inspection is performed, the most appropriate treatment will be chosen. Depending on the type of infestation and its severity, the pesticides used may include spray, powder, aerosoles, as well as other pesticidal products if needed. Baits are also used if applicable.
Observation. Some pest removal measures work quickly, others take a few weeks to show their full effects. Depending on the service you've selected you'll be instructed on how to assess the results of the treatment yourself or the technician will arrange a follow-up visit.
Prevention. You'll receive a written report. This will detail everything done to date, anything you should do to maximise the efficiency of the treatment and actions you can take to reduce the risk of a second pest invasion.
Additional benefits from your expert pest control solution in Chelsea
Benefit from the use of professional quality pesticides administered safely by a certified technician. You also get:
Control solutions for all common pests - Cockroach removal, ants or spider control, termite inspections, wildlife control and more.
Eco-friendly pest control products - We keep your family safe, including kids and pets, with our high-end pest control products and specialised treatments.
A vermin and pest-free environment - Treatments are always administered in accordance with all safety guidelines.
Your own Fantastic account - Make appointments day or night, review what's scheduled and even amend a booking. Do it all online and anytime.
*Data has been extracted from our internal database for the past 12 months
You can become a member of the Fantastic Club today and take advantage of all the amazing benefits that come with it, including discounted rates and special offers.
Real pest control quotes from Chelsea:
Good day, we need a rodent treatment for my 5-bedroom house. I have a garage connected to the house too. We saw some mice in the kitchen and in the garage. Send us a quote, pl
ease.
...

More
Service: Mice control
Hello. We have wasps infestation outside. Please help! It's on the front fence and it's really annoying. We'd like to book the soonest slot available. Send a quote, please. Th
ank you.
...

More
Service: Wasp control
Hello! I need an urgent cockroach treatment for my 1-storey, 2 bedroom house. There are small cockroaches everywhere, and especially when I wake up at night. Send a quote firs
t, please.
...

More
Service: Cockroach control
How much does a pest control service in Chelsea cost?
The average cost for professional pest control in Chelsea is $310.
Almost 85% of our customers in Chelsea request a second (follow-up) visit.
1 in 5 customers becomes a member of our Fantastic Club and enjoys countless benefits!
Nearly 40% of our customers combine their pest treatment with a cleaning service!
*Data has been extracted from our internal database for the past 12 months
Start your own pest control business in Australia
Get everything you need to open and grow your own business! The proven processes. Award-winning online marketing strategies handled on your behalf. Find out more today.
Chelsea pest control working hours and coverage
Local line: 1300 233 268
Email: chelsea@fantasticservicesgroup.com.au
Local office: Chelsea
Working hours
Monday

8am - 6pm

Tuesday

8am - 6pm

Wednesday

8am - 6pm

Thursday

8am - 6pm

Friday

8am - 6pm

Saturday

8am - 6pm

Sunday

8am - 6pm