Quick online booking for Derrimut Pest control
Find a nearby pest exterminator
Enter your zip code and address in our online booking form.
Describe the current pest problem
Don't worry too much about the details, just explain what you've seen, heard or smelt.
Book a time that suits you
You'll see currently available appointments displayed. Pick a slot and make a reservation.
Enjoy the results!
Admire your pest-proofed home. In some cases, a follow-up visit might be necessary.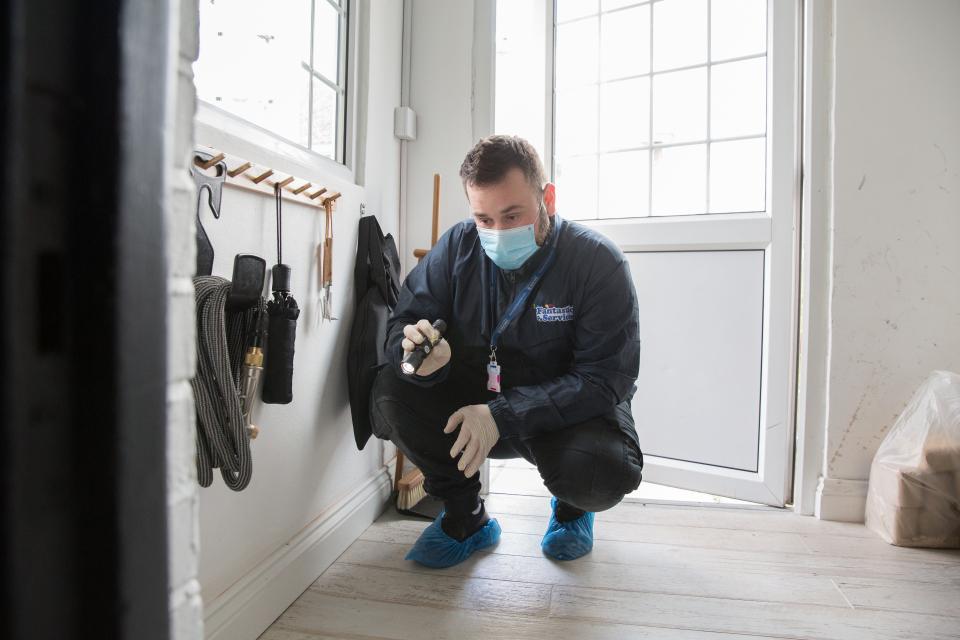 Some of our pest control solutions in Derrimut
Cockroach control
Cockroaches are most frequently found in kitchens but in severe cases can be anywhere on the property. They contaminate food, carry bacteria and other pathogens and represent a significant hazard to health. The insect exterminator will generally use gel baits to eliminate cockroaches as these deliver the insecticide directly to the target population without contaminating food or work surfaces. When infestations are treated early, cockroach control can sometimes be achieved in a single visit.
Bed bugs control
Bed bug infestations have become more frequent in recent years as the bugs have become resistant to many insecticides that are available to domestic customers. Professional pest exterminators have access to advanced control solutions of proven efficacy. Because insecticides are not effective against bed bug eggs, the treatment is completed in two visits in accordance with industry codes of practice. This mode of treatment ensures that two generations of adult bugs are destroyed and the reinfestation cycle is broken.
Rodent control
Both rats and mice breed quickly and untreated infestations become severe in a matter of weeks or months. Rodents carry secondary pests such as fleas or ticks and have the potential to spread a wide range of life-threatening diseases. They contaminate food and any surfaces they move across. The pest controller will assess the extent and location of the infestation and lay baited stations along the rodent runs. The treatments used are safe for homes with pets or children. It can take around 3 weeks from the initial visit to eliminate the infestation.
Wildlife control
Pigeons, squirrels or possums sometimes set up homes in attics and other inaccessible spaces. Some vermin can cause structural damage to property, others act as disease vectors. The pest controller will set humane traps to capture the animals. Once caught they are either removed from your property or when required by law released near the capture point. Your professional will also assist or advise on sealing your property so that released wildlife can't return.
*Data has been extracted from our internal database for the past 12 months
You can become a member of the Fantastic Club today and take advantage of all the amazing benefits that come with it, including discounted rates and special offers.
Real pest control quotes from Derrimut
Good afternoon, can you please assist me to arrange a pest control for my one bedroom flat. In my humble opinion we have a rodent situation here, however I can't confirm for s
ure if that's the real problem. Please be quick in quotation, thank you!
...

More
Service: Mice control
I was wanting to organise a one-off pest control for one of my NDIS participants as there are moths throughout the entire house. They are literally everywhere, so have in mind
that the treatment can take longer than usual. Please advise on how to proceed.
...

More
Service: Moths control
I am contacting on behalf of my client who is NDIA managed and who requires assistance for a bed bug problem at their property. Could you provide a quote please? It is a one b
edroom apartment, I am not sure of the condition of the flat. Please contact to discuss further or with any queries!
...

More
Service: Bed bugs treatment
How much does a pest control service in Derrimut cost?
The average cost for professional pest control in Derrimut is $314.
Almost 75% of our customers in Derrimut request a second (follow-up) visit.
1 in 5 customers becomes a member of our Fantastic Club and enjoys countless benefits!
Nearly 40% of our customers combine their pest treatment with a cleaning service!
*Data has been extracted from our internal database for the past 12 months
Start your own business in Australia
If you think self-employment might be for you, check out the opportunities offered by Fantastic Services. You'll get all the support you need to start your business in the property maintenance sector and achieve your goals more quickly with experts by your side. Become Fantastic today!
Derrimut pest control working hours and coverage
Local line: 1300 233 268
Email: derrimut@fantasticservicesgroup.com.au
Local office: Derrimut
Working hours
Monday

8am - 6pm

Tuesday

8am - 6pm

Wednesday

8am - 6pm

Thursday

8am - 6pm

Friday

8am - 6pm

Saturday

8am - 6pm

Sunday

8am - 6pm
Postcode coverage: 3026
Other locations we cover nearby Derrimut