Book an extermination service online for a pest-free future!
Tell us where you are
Enter your address and zip code to be matched with a pest control team close to you.
Select the service you need
Give us as much information as you can - anything you have seen, heard, smelt or found around the premise.
Choose your appointment from real-time options
Check our availability. Then book. We offer appointments from 8 am to 6 pm, Monday through Sunday.
All set! Time for pest control.
You're done! Your appointment is ready. A pest control expert will be on their way to your property at the time you've chosen.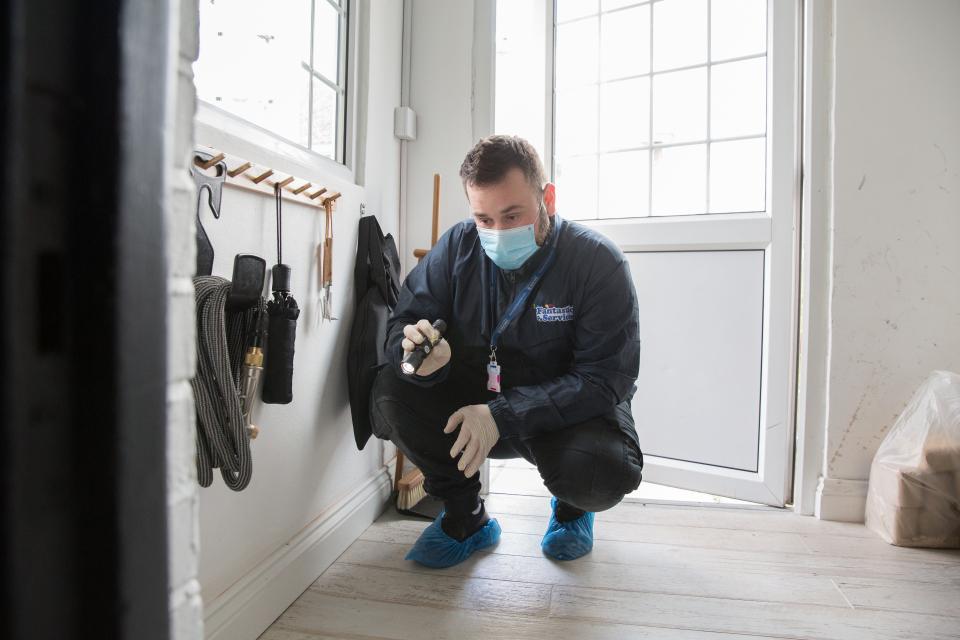 Some of our pest control services in Endeavour Hills
Cockroach control
Cockroaches carry and spread a range of bacteria that can cause food poisoning or other diseases. In a kitchen, they contaminate uncovered food and work surfaces through their saliva and droppings. The pest control technician will inspect to determine the location of the infestation and lay down bait. Cockroaches that eat the bait die and since other roaches will eat them the treatment works across the colony in a short time. This method exterminates the roaches to return your home to a sanitary condition without presenting an exposure risk to people or pets.
Crawling insect control
We're talking about bed bugs, ants, termites, spiders, and all the other crawling pests that cause such a nuisance in Australian homes. They spread extremely quickly and DIY techniques often make matters worse. To avoid a serious infestation, we recommend that you book a 3-step pest treatment and we will take care of everything so you don't have any more critters chewing through your favourite table, cable or cloth.
Bed bug control
It's easy to bring bed bugs home. They often travel on clothing or suitcases if you stay in an infested hotel. These insects aren't so easy to get rid of as they're resistant to many insecticides available to domestic customers. Your pest controller will use highly effective professional-grade formulations to kill bed bugs and will advise on measures you can take to maximise the success of the treatment. In accordance with the Australian Standards and industry codes of practice, we recommend that bed bug extermination is done in two visits.
Wildlife control
Certain birds, squirrels, foxes, rabbits or possums in or around your property are sometimes a delight, but they could also be a nuisance. They could cause damage and spread diseases that can affect people. Our wildlife control service is carried out through the use of humane traps which are checked regularly once laid. Captured wildlife is removed or, in the case of possums, released near their capture point, as required by law. Our professionals will also advise on or assist in making your property wildlife-proof.
A proven program for pest control in Endeavour Hills
Our proven technology, combined with dedicated and trained pest controllers ensure that you get a quality service.
Professional inspection. The pest control professional will start by performing a detailed survey of the infested area. The type and level of infestation will be determined and all possible hiding places will be identified. The pest control technician will then be able to decide on the most appropriate treatment.
Pest treatment. The most effective treatment will then be applied, whether it involves setting up baits or traps, spraying surfaces with approved insecticides, or simply placing a pest-deterrent product (ex: humane nets against pesky pigeons). Note that you may need to vacate the property during certain treatments for safety reasons.
Observation. After the treatment is carried out, we recommend that you stay alert and look for any signs of pest activity. You can arrange a secondary service in case you have booked a guaranteed treatment. This option is highly recommended for properties that are at high risk of reinfestation.
Prevention. You'll receive a detailed written report on the work that's been done and advice on any measures you should take to prevent the pest from returning in the future.
Why Fantastic Services pest control in Endeavour Hills is the one for you?
Fast response times and qualified pest technicians are only the start. Get pest removal from Fantastic Services to benefit from:
A full pest control experience - We offer a three-step service that includes a thorough inspection, expert treatment and prevention techniques to ensure you won't get the same pest problem in the future.
Safe pest control solutions - All pesticides are used in accordance with current health and safety codes of practice.
High-quality service - We can absolutely guarantee that we will be able to solve your pest problem.
Same day appointments - Make your pest treatment happen at the time you need it to. Even if that time happens to be later today!
*Data has been extracted from our internal database for the past 12 months
You can become a member of the Fantastic Club today and take advantage of all the amazing benefits that come with it, including discounted rates and special offers.
Real pest control quotes from Endeavour Hills:
Endeavour Hills
Dec 08 2021
Hi. Please send me a quote for a small 2 1/2- home, including the backyard and also a small shed. I am looking for cockroach pest treatment and spiders as well as rats.
Service: General Pest control
Endeavour Hills
Jun 22 2021
Hi there, I have troubles with mice. One chewed through a water pipe under the sink. After a week we found mouse droppings here and there in the house. A mouse came through th
e wall. Caught that one and no rodents in the house again. I know that rodents were still there because my dog indicates they are still in the walls and ceiling. We saw one outside one night. It looked larger than a mouse and there is a large hole in the garage wall. It looks to me like the mice were killed by rats and they have taken over. None of the pests ate ratsak baits. Please give me a quote.
...

More
Service: Mice control
$189
Dead bees in backyard
Endeavour Hills
Dec 20 2021
Good day, I just moved into a new house and I have dead bees in my backyard every day. How much does it cost to come onsite and inspect is there any infestation? Thank you!
Service: Pest control inspection
How much does a pest control service in Endeavour Hills cost?
The average cost for professional pest control in Endeavour Hills is $297.
Almost 70% of our customers in Endeavour Hills request a second (follow-up) visit.
1 in 5 customers becomes a member of our Fantastic Club and enjoys countless benefits!
Nearly 40% of our customers combine their pest treatment with a cleaning service!
*Data has been extracted from our internal database for the past 12 months
Start your own business in Australia
Get all the benefits of working for yourself but cut down on the stress and struggle. Start your enterprise as a Fantastic Services franchisee to be supported by market leaders in home maintenance provision. Get help from the outset, and right down the line. Learn more!
Endeavour Hills pest control working hours and coverage
Local line: 1300 233 268
Email: endeavourhills@fantasticservicesgroup.com.au
Local office: Endeavour Hills
Working hours
Monday

8am - 6pm

Tuesday

8am - 6pm

Wednesday

8am - 6pm

Thursday

8am - 6pm

Friday

8am - 6pm

Saturday

8am - 6pm

Sunday

8am - 6pm