Set up pest control in Frankston North right now
Start by giving your location
This way, the system can automatically appoint available pest exterminators in Frankston North.
Describe your current pest problem
Please, share with us more details about your pest control needs and the type of property you have during the booking process!
View availability - pick a slot
Reserve an appointment for a time and day that suits you. Request key collection and drop-off if that makes things easier.
Want to talk to a human?
You can always use the online service to amend your appointment time or update any information you've given.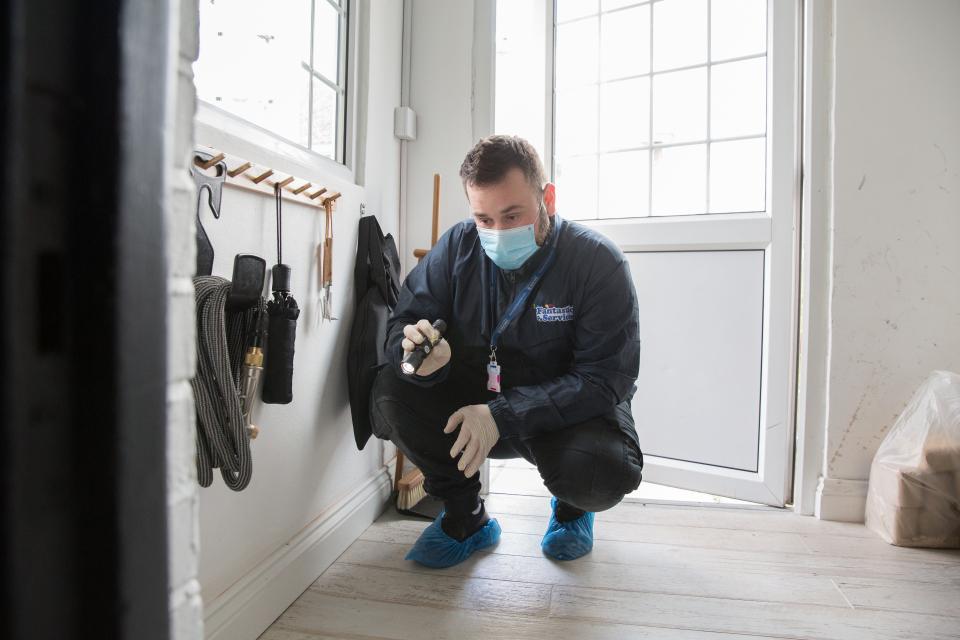 Some of our pest control services in Frankston North
Rodent control
Rodents breed quickly, spread disease and will contaminate food supplies and food preparation areas. Setting down traps or bait effectively takes a degree of skill as rats are both intelligent and wary. Professional rodent control technicians have access to advanced control methods, the insight required to use them to their best effect and follow a ratified treatment model to purge your home of rats or mice.
Bed bug treatment
It's easy to bring bed bugs home. They often travel on clothing or suitcases if you stay in an infested hotel. These insects aren't so easy to get rid of as they're resistant to many insecticides available to domestic customers. Your pest controller will use highly effective professional-grade formulations to kill bed bugs and will advise on measures you can take to maximise the success of the treatment. In accordance with the Australian Standards and industry codes of practice, we recommend that bed bug extermination is done in two visits.
Flea treatment
Fleas generally enter properties thanks to pets, but can also be carried by rats or mice. Generally, health problems caused by fleas are mild - skin rashes, bite marks and itching, but they also have the potential to transmit diseases including typhus and plague. Domestic insecticides are often ineffective as fleas become resistant to them. Our technician will use professional products to exterminate the fleas and will also advise on things you should do to prevent a second infestation.
Flying pests
During the summer months, the last thing you need is a swarm of mosquitoes and flies invading your precious home. Or maybe a huge wasp nest that has taken over your favourite garden shed. Whatever your pest issues might be, the Frankston local technicians can successfully take care of the problem for you. Eradicating insects and removing bee and wasp nests is not a problem for our trained and experienced pest control experts.
The steps we take for pest control in Frankston North
Start-to-finish pest control is delivered through a structured process that ensures the best results:
Inspection. On appointment day, your home will first be inspected for all the signs of pest activity. The pest control expert will make sure to check for any entry points, as well. The professional's aim will be to get a clearer picture of the severity of the infestation.
Vermin-deterrent or pesticidal treatment. Once done with the previous, they will start the treatment using pet- and child-friendly professional pesticides. Our effective pest control solutions are developed to resolve every situation.
Observation. If it's included in your service, after a certain period of time, you will receive a follow-up visit to make sure everything is going according to plan.
Prevention. You'll receive a written report. This will detail everything done to date, anything you should do to maximise the efficiency of the treatment and actions you can take to reduce the risk of a second pest invasion.
Why use expert pest control services in Frankston North?
Here are 6 great reasons to choose Fantastic Services for the job
Reference vetted staff - All technicians are certified and experienced and operate within a quality-control supervision framework.
Control solutions for all common pests - Our guaranteed pest control includes a thorough inspection, effective treatment, and follow-up visits so you can quickly forget about your pest infestation.
Perks for Fantastic Club members - As a Fantastic Club member, you'll also qualify for priority booking and an on-time arrival guarantee.
Key collection and drop-off can be arranged - Key collection and drop-off can be arranged if you need pest extermination, but can't meet the technician.
*Data has been extracted from our internal database for the past 12 months
You can become a member of the Fantastic Club today and take advantage of all the amazing benefits that come with it, including discounted rates and special offers.
Real pest control quotes from Frankston North:
Frankston North
Dec 23 2021
Hello. We have roaches in the flat. Saw them two days ago for the first time. We want to treat the property before they became more. Send a price by email. Contact me if you n
eed more information. Thanks.
...

More
Service: Cockroach control
$529
Bed buds infestation
Frankston North
Jul 15 2021
Hello, I need a thorough pest control service in our property. We have a problem with bed bugs in 3 beds, I think there are spiders too - a small amount. What is the guarantee
of your service? Thank you.
...

More
Service: Bed bug control
Frankston North
Sep 02 2021
Hello, I need a rodent control service for my 5-bedroom house. I have a garage connected to the house too. We saw some mice in the kitchen and in the garage. Send us a quote,
please.
...

More
Service: Mice control
How much does a pest control service in Frankston North cost?
The average cost for professional pest control in Frankston North is $298.
Almost 75% of our customers in Frankston North request a second (follow-up) visit.
1 in 5 customers becomes a member of our Fantastic Club and enjoys countless benefits!
Nearly 40% of our customers combine their pest treatment with a cleaning service!
*Data has been extracted from our internal database for the past 12 months
Start your own business in Australia
Your own pest control business in Frankston North can become a reality by investing in our proven and profitable franchise business model. Entrust your success to Fantastic Services and get guaranteed local clients, easy online job management tools and our ongoing support from day one! Learn more!
Frankston North pest control working hours and coverage
Local line: 1300 233 268
Email: frankstonnorth@fantasticservicesgroup.com.au
Local office: Frankston North
Working hours
Monday

8am - 6pm

Tuesday

8am - 6pm

Wednesday

8am - 6pm

Thursday

8am - 6pm

Friday

8am - 6pm

Saturday

8am - 6pm

Sunday

8am - 6pm