Book your pest technicians online in seconds and enjoy a pest-free life!
Fill in your postcode
Using this we can match you with a pest control professional in your area
Describe the current pest problem
Inside or out? Vermin, rodent or insect? If you're not sure, don't worry. Just provide whatever information you can.
Select a convenient appointment
The system displays vacant slots in real-time. Simply select a time and confirm your booking.
Want to talk to a human?
That's all you need to do to schedule a professional pest control service in Hampton for your home or business!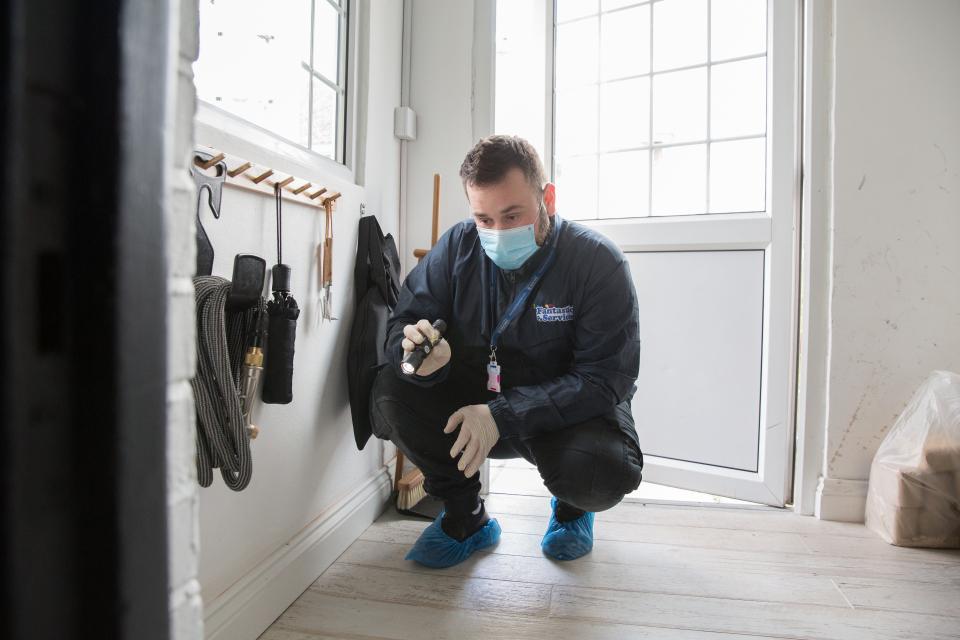 How we do pest control in Hampton - our process explained
The pest professional follows a proven procedure to rid your property of pests and protect it from them in the future.
Inspection
The controller begins by inspecting the property to confirm the type of pest to be eliminated, to verify its location and determine the extent of the problem.
Treatment
This may include the application of rodenticides or insecticides, setting traps or other actions necessary to eradicate the problem.
Options for follow-up visits
In case you have booked a follow-up visit, you can schedule it at the end of the first treatment. For bed bugs and termites, it's usually after 14 days.
Prevention
Some measures to prevent reinfestation may be taken at your initial visit. You'll also be advised in writing of anything you should do to ensure that you don't have any further pest problems.
What makes our pest control in Hampton so great
One pest removal service - multiple advantages!
Start to finish pest removal solution - This service incorporates inspection, treatment, follow-up visits or advice on monitoring, and pest prevention advice.
Control solutions for all common pests - Our guaranteed pest control includes a thorough inspection, effective treatment, and follow-up visits so you can quickly forget about your pest infestation.
Payment after you see the results - Rest easy knowing that your service has achieved some real results. Before you need to pay.
Trained exterminators near you - Your pest removal service is performed by fully qualified and certified local professioals and pest management experts.
Pest control services we offer in Hampton
Bed bugs control
Bed bugs are a widely-spread pest but since they are almost invisible and hide in mattresses, we don't realise their presence before getting these irritating bed bug bites. Аt this point, the bed bug infestation has become quite serious and seeking professional help is the best thing you can do. An experienced pest removal specialist knows just the right treatment for you and how to execute it safely and effectively. Note that you may be asked to do some prep work, such as take off the linen and wash it on high temperature.
Flea control
Fleas could be carried into your home on pet fur but also on second-hand furniture or carpets can harbour flea eggs. Since fleas can be resistant to commonly used insecticides, the formulas used by professionals are more effective. You should clean and vacuum before the treatment as it will be necessary to leave the insecticide in place for a few weeks after. Flea control can sometimes be completed in a single visit, provided you make arrangements for any pets to be treated on the same day as the house is.
Insect control
Wasp nests in the garden, cockroaches in the kitchen, bed bugs, ant invasions, or any other kinds of flying, crawling, biting or stinging insects. A trained and qualified pest exterminator will select from a range of advanced pest control solutions, choosing the one that will get rid of unwanted guests in the most efficient and safest way. In a short time, your home will be returned to a sanitary condition and you won't have to worry about bites, stings, structural damage or insect-borne diseases.
Cockroach control
Cockroaches are most frequently found in kitchens but in severe cases can be anywhere on the property. They contaminate food, carry bacteria and other pathogens and represent a significant hazard to health. The insect exterminator will generally use gel baits to eliminate cockroaches as these deliver the insecticide directly to the target population without contaminating food or work surfaces. When infestations are treated early, cockroach control can sometimes be achieved in a single visit.
*Data has been extracted from our internal database for the past 12 months
You can become a member of the Fantastic Club today and take advantage of all the amazing benefits that come with it, including discounted rates and special offers.
Real pest control quotes from Hampton:
Hi, Could you please send me a quote for spiders control service for a big house - 5 bedrooms, an attic area and wide garage have to be treated. I would also like a preventive
pest control treatment for the whole property.
...

More
Service: Spiders treatment
Hello there! Can you provide me with a flea treatment service next Friday for that afternoon at 2 pm, please? There is no flea problem, just a clause in our lease agreement. S
end me the price first, please. Thank you!
...

More
Service: Pest control
Hello. I need a pest control treatment against rodents. There seems to be some dead rats/mice in the roof or walls at home. Could you please come and check by the end of the w
eek. Thanks!
...

More
Service: Rat control
How much does a pest control service in Hampton cost?
The average cost for professional pest control in Hampton is $315.
Almost 70% of our customers in Hampton request a second (follow-up) visit.
1 in 5 customers becomes a member of our Fantastic Club and enjoys countless benefits!
Nearly 40% of our customers combine their pest treatment with a cleaning service!
*Data has been extracted from our internal database for the past 12 months
Start your own business in Australia
Pest control working hours and coverage
Local line: 1300 233 268
Email: hampton@fantasticservicesgroup.com.au
Local office: Hampton
Working hours
Monday

8am-6pm

Tuesday

8am-6pm

Wednesday

8am-6pm

Thursday

8am-6pm

Friday

8am-6pm

Saturday

8am-6pm

Sunday

8am-6pm
Our pest experts in action: