Stay online to get pest control in Malvern East
Log in and tell us where you live
Enter your postcode to be able to see local coverage of our pest control service.
Tell us about the pests
Inside or out? Vermin, rodent or insect? If you're not sure, don't worry. Just provide whatever information you can.
Pick a day in real-time
Pest control experts are available seven days a week, so you can be sure about rapid help whenever you need it.
Sit back while your service happens
With your appointment confirmed you can be confident that expert assistance will soon be with you.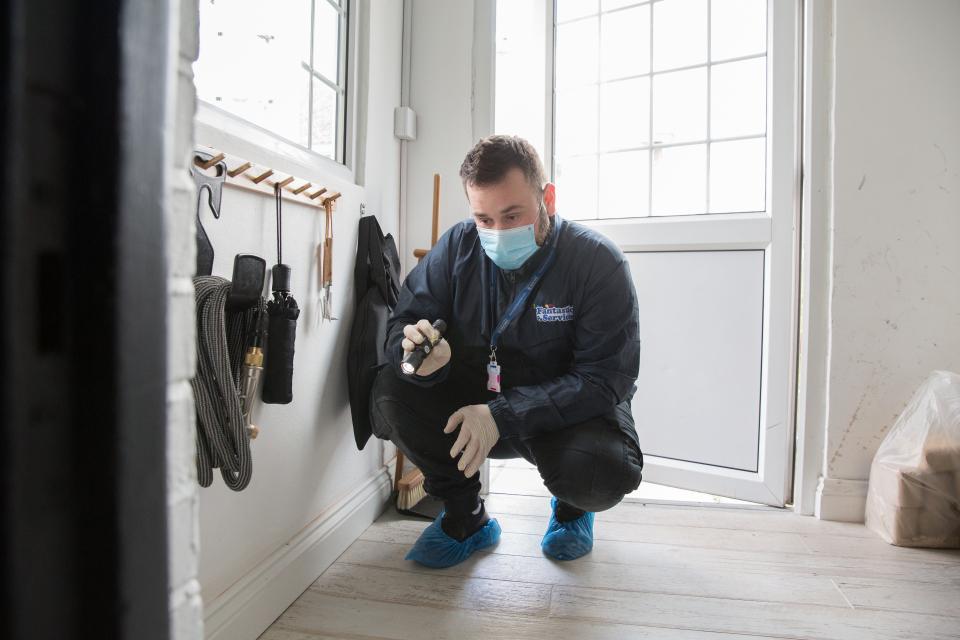 See how our pest control services in Malvern East work
From a thorough pest inspection and effective treatment to detailed reporting and proofing advice, our all-in-one vermin removal services is what you need!
Inspection
The premises are surveyed to confirm the presence pests, their location and the degree of infestation.
Treatment
This could involve laying down rodenticides or insecticides as powder or bait or other indicated methods. Humane wildlife removal is also available to deal with squirrels, birds or possums.
Monitoring
Now's time for the observation phase. This might involve returning to collect rodents captured by traps. Or it might mean observing the effectiveness of the methods that have been used to address your pest presence to ensure full removal has been achieved.
Prevention
You'll receive a written report. This will detail everything done to date, anything you should do to maximise the efficiency of the treatment and actions you can take to reduce the risk of a second pest invasion.
What makes our pest control in Malvern East so great
Your pest control solutions will always be provided promptly. Sometimes even on the day you call. You'll also benefit from:
Control solutions for all common pests - Cockroach removal, ants or spider control, termite inspections, wildlife removal and more.
Flexible pricing options - Fantastic Services provides 1- and 3-months guaranteed pest removal solutions, which come with more than one visit if necessary and upon request.
Reschedule for free - Something getting in the way of your original appointment? Not a problem. As long as you give us a 48-hour notice, rescheduling is free.
Effective methods - Our service is convenient to get and it solves the problem using advanced methods. Quality work guarantee.
What kind of pest extermination service could you need in Malvern East?
Wasp removal
Removing stinging insects yourself can be risky, especially if the hive has been established for some time and the colony has reached large numbers. Keep yourself safe by hiring an experienced pest exterminator who has the tools and safety equipment needed to remove bees or wasps from your property.
Crawling pests
Ants, termites, spiders, bed bugs, and other crawling insects can cause a lot of stress and structural damage. If you notice the infestation in time, you might get rid of them by yourself but that rarely happens. That's why we offer our 3-step guaranteed pest control services in Frankston, so you can get rid of any crawlies and keep your family safe for years to come. The steps include a thorough inspection, treatment, and a second visit to assess the results and share preventive measures.
Cockroach control
Roaches are not just heinous but also harmful to humans and pets' health. They are also extremely adaptive environment changes, thus, hard to get rid of. Luckily, when professionally treated, they can be eradicated without too much hassle. Our experienced exterminators are certified to work with a full range of approved insecticides to eliminate roach colonies successfully. When dealing with a severe infestation, it is recommended to book a guaranteed service to ensure the pest problem is resolved completely.
Spider control
Let our experts remove any spiders you are having trouble with inside or around your property to make sure that the problem is solved safely and effectively. You will also get advice on preventing infestations in the future. Not to mention prevention and proofing treatments.
*Data has been extracted from our internal database for the past 12 months
You can become a member of the Fantastic Club today and take advantage of all the amazing benefits that come with it, including discounted rates and special offers.
Real pest control quotes from Malvern East:
We saw mice and want to remove them. Might be rats too, but were small, so probably mice. We would like a specialist to come and inspect the whole house. Send a price first, p
lease. Thanks.
...

More
Service: Mice control
Good day. We have wasps infestation outside. Please help! It's on the back fence and it's really annoying. We'd like to book the soonest slot available. Send a quote, please.
Thnaks a lot.
...

More
Service: Wasp control
$189
End of lease control
Need cheap rental property flea treatment for moving out. There is no infestation, just a contract clause. It has to be done next week. Please send me the price and available
hours. Thanks.
...

More
Service: Flea treatment
How much does a pest control service in Malvern East cost?
The average cost for professional pest control in Malvern East is $303.
Almost 70% of our customers in Malvern East request a second (follow-up) visit.
1 in 5 customers becomes a member of our Fantastic Club and enjoys countless benefits!
Nearly 40% of our customers combine their pest treatment with a cleaning service!
*Data has been extracted from our internal database for the past 12 months
Start your own business in Australia
If you are looking for a successful business opportunity, why don't you join our Fantastic franchise family? We will provide you with guaranteed jobs, continuous online help, working marketing strategies, and proven sales strategies!
Pest control working hours and coverage
Local line: 1300 233 268
Email: malverneast@fantasticservicesgroup.com.au
Local office: Malvern East
Working hours
Monday

8am-6pm

Tuesday

8am-6pm

Wednesday

8am-6pm

Thursday

8am-6pm

Friday

8am-6pm

Saturday

8am-6pm

Sunday

8am-6pm
Our pest experts in action: