Your pest removal booking completed in a few simple steps!
Fill in your postcode
Enter your postcode to be able to see local coverage of our pest control service.
Tell us about the pest problem
Choose the type of treatment or pest, or simply book an inspection so that the Malvern pest control experts can determine the type of service you need.
Select a time slot that suits you
The system displays vacant slots in real-time. Simply select a time and confirm your booking.
Your booking is completed
Our support line is staffed 24/7 so you can make or change bookings by phone if you prefer.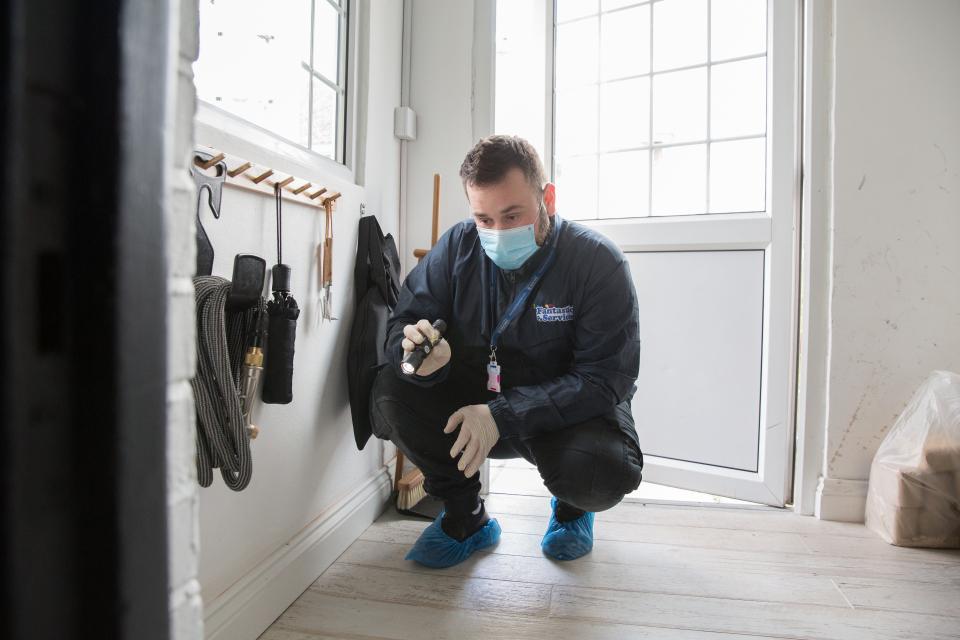 The steps we take for pest control in Malvern
4 simple steps to eliminating all pests from your property
Professional inspection
When your pest expert arrives at your property in Malvern, they will first carefully examine your place to figure the type and the level of the infestation. The inspection of the property is an important stage towards solving the pest infestation problem.
Treatment
The pest control solution selected is always tailored to the type of insect or vermin to be treated, the severity of the problem and the property where the work is to be done.
Observation
We offer guaranteed services that include further observation, and follow-up inspections and treatments if needed. So, if you spot any remaining pest activity after the initial treatment, contact us again!
Prevention
Upon completion of the treatment, the pest removal technician will hand you a written report with all the important details about the treatment used. They will also offer some pest prevention tips if you ask them to so that you learn how to avoid future pest problems of the same kind.
Reasons to book pest control in Malvern through Fantastic Services
Book pest control by Fantastic Services to be certain your work is completed by a certified and vetted technician, you also gain:
Contactless service options - Key collection and drop-off can be arranged if you need pest removal service, but can't meet the technician.
Your health and safety are our prime concern - Really that's what we're all about. Making your home a safe and sanitary place for you and your family.
Health and safety matter the most - Pests are resistant to many pesticides available for non-professional use, so professional formulas work better.
High-quality service - Our service is convenient to get and it solves the problem using advanced techniques. Quality work guarantee.
More information about some of the pest removal services we cover in Malvern
Bed bug control
We offer efficient bed bug treatment solutions that will help rid your home, hotel or another type of business property of blood-sucking critters. Our exterminator will apply state-of-the-art insecticides that have been time-tested for their effectiveness in eliminating the adult bugs, their eggs, and any remaining larvae. The service comes with a second visit in a few weeks to ensure that there are no bed bugs left behind on your property.
Wasp removal
Having a large number of stinging insects near your home is always unpleasant. If you or anyone living at the property has an allergy to bee or wasp stings the presence of a hive is potentially life-threatening. Removing a colony of bees or wasps yourself is not recommended unless you have the safety equipment required and know how to do the job without the risk of triggering a mass attack. Our technicians arrive with all the tools they need to take care of wasp or bee removal so you can enjoy your home undisturbed by angry stinging insects.
Wildlife control
Pigeons, squirrels or possums can set up homes in attics and other inaccessible spaces. Some vermin could even cause structural damage to your property, while others act as disease vectors. Our pest controllers will set humane traps to capture the animals. Once caught they are either removed from your property or, if required by law, released near the capture point. Your professional will also assist or advise on sealing your property so that released wildlife can't return.
Rat and mice control
Both rats and mice breed quickly and untreated infestations become severe in a matter of weeks or months. Rodents carry secondary pests such as fleas or ticks and have the potential to spread a wide range of life-threatening diseases. They contaminate food and any surfaces they move across. The pest controller will assess the extent and location of the infestation and lay baited stations along the rodent runs. The treatments used are safe for homes with pets or children. It can take up to 3 weeks after the initial visit to eliminate the infestation.
*Data has been extracted from our internal database for the past 12 months
You can become a member of the Fantastic Club today and take advantage of all the amazing benefits that come with it, including discounted rates and special offers.
Real pest control quotes from Malvern:
Hello there, We are looking for a spider control in and outside the house. Mainly outside around the BBQ. When you can come and check? I prefer morning appontments, before 11A
M. Send by e-mail, please.
...

More
Service: Spider control
Hello, I need a rodent treatment for my 5-bedroom house. I have a large garage nex to the house too. We saw some mice in the kitchen and in the garage. Send us a quote, please
.
...

More
Service: Mice control
We have bed bugs in the apartment and my landlord advise us to deal with them. How much for a rapid appoitment, I only have one bedroom? Hurry please, it's very bad.
Service: Bed bugs control
How much does a pest control service in Malvern cost?
The average cost for professional pest control in Malvern is $302.
Almost 85% of our customers in Malvern request a second (follow-up) visit.
1 in 5 customers becomes a member of our Fantastic Club and enjoys countless benefits!
Nearly 40% of our customers combine their pest treatment with a cleaning service!
*Data has been extracted from our internal database for the past 12 months
Start your own pest control business in Australia
Pest control working hours and coverage
Local line: 1300 233 268
Email: malvern@fantasticservicesgroup.com.au
Local office: Malvern
Working hours
Monday

8am-6pm

Tuesday

8am-6pm

Wednesday

8am-6pm

Thursday

8am-6pm

Friday

8am-6pm

Saturday

8am-6pm

Sunday

8am-6pm
Our pest experts in action: