4min read
Published: January 24, 2020
Views: 8,448
How to Clean Mould off Bathroom Sealant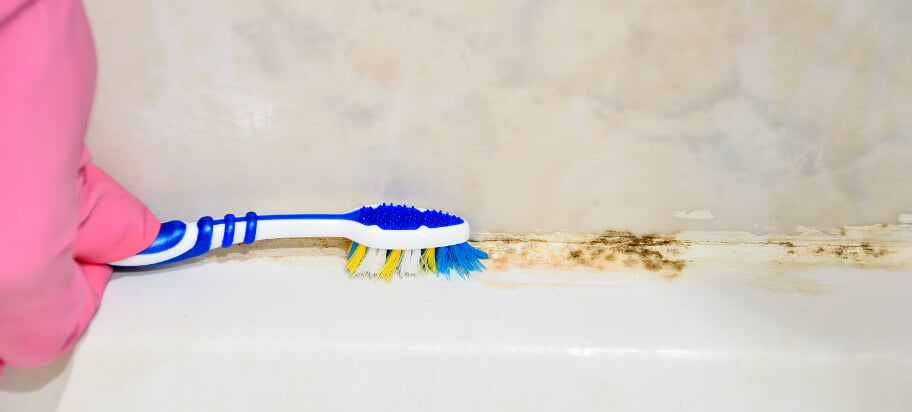 Mould buildup in the sealant is one of the harders places to clean, especially if it's left there for months or years. Once it's there, even with a good amount of elbow grease you may not be able to remove it. Sometimes, despite regularly cleaning your bathroom tiles, mould can still show up on the sealant. Knowing the right cleaning method can save you a lot of time and troubles.
In this guide, you will find out how to properly clean mould off bathroom sealant.
Health Risks and Effects of Mould
Mould can trigger a number of health problems. For people with asthma and certain types of allergies, it can cause serious breathing issues that can quickly get them in the hospital, if they are exposed for a long enough period.
Mould disrupts lung function, making it harder to breathe, and it irritates the throat – causing coughing and shortness of breath. It weakens the immune system, causes allergies and black mould can even lead to asthma, especially in young children
Even for those who are healthy, mould exposure increases the risk of chest and lung infections, so you can never be careful enough when it comes to mould, especially the black one. The best course of action is to take care of it immediately and leave nothing to chance.
Natural cleaning solution to get rid of mould on bathroom sealant
Cleaning with chemicals is not always the best option. They are not child and pet-friendly, can cause various health issues as well as allergic reactions. Using natural cleaners is better for your health, the environment and your wallet. Here are some of the best natural cleaners that will help you remove mould from your bathroom sealant.
Baking soda
Baking soda works great as a mould remover. Mix it with a bit of water until thick paste forms. Spread it onto the mouldy area and let it sit for a while. Then, using an old toothbrush, scrub the mould and rinse off with water.
If you wish to have a stronger solution, you can mix baking soda and vinegar.
Vinegar
White vinegar is an all-around cleaning agent and it's also a fantastic mould remover.
To clean the mould off the sealant, pour equal parts white vinegar and water in a spray bottle and apply the sealant thoroughly. After that, scrub it gently with an old toothbrush and finally rinse with water.
Borax
To create a cleaning solution with this ingredient simply mix one cup of borax with three litters of hot water. Scrub the solution into the mouldy area and wipe away with a cloth.
How to get rid of mould from bathroom silicone sealant using bleach
Bleach is very effective in removing mould from most surfaces. However, you should be very careful while using it, as it produces strong fumes that can harm you. Make sure your bathroom is well ventilated while using bleach and similar products. Put rubber gloves to protect your hands and cover your eyes from splashbacks. Also, make sure there are no kids and pets around. Here's how to clean mould from bathroom sealant using bleach.

Pick up some household bleach of your choice and some cotton wool.
Pour the bleach on the sealant and place the cotton wool on top, so that it keeps the bleach in place.
Let it sit for a couple of hours.
After that, remove the wool and rinse off with water.
warning
Bear in mind that bleach can cause tile and grout discolouration.
How to prevent mould in the bathroom
Mould in your bathroom is mostly caused by high moisture levels. To stop it from building up, you need to keep your bathroom as dry as possible.
Use a vent when you use the shower and keep it on for at least 10-15 minutes after you're done. If your vent is not working, make sure to fix it or buy a new one. Another great tip is to wipe the shower tiles and surfaces with a dry cloth after taking a shower.
If you've tried everything but without any success, we recommend turning to a professional. They have the necessary experience and equipment to get rid of the mould in your bathroom sealant.
Professional Cleaning Service

We will help you clean the problematic mould in your bathroom.
Takeaways
Regular maintenance of your bathroom is the best way to prevent the appearance and build-up of mould in the bathroom.
Try using natural cleaning methods before you jump straight to chemicals.
Professional cleaning services can help you get rid of hard to clean mould and will save you time.
***
Did you find this article on how to clean mould off bathroom sealant interesting? Share your thoughts and experiences in the comment section below.

Last update: April 16, 2020
Posted in All Articles, Cleaning Guides
Fantastic Services is your one-stop shop for 25+ professional home cleaning and maintenance services, provided within Australia. Using high-grade equipment that is inaccessible to everyday households, the dedicated service specialists will gladly go the extra mile to turn your home or office into something truly special.