4min read
Published: October 31, 2019
Views: 585
How To Clean a Sisal Rug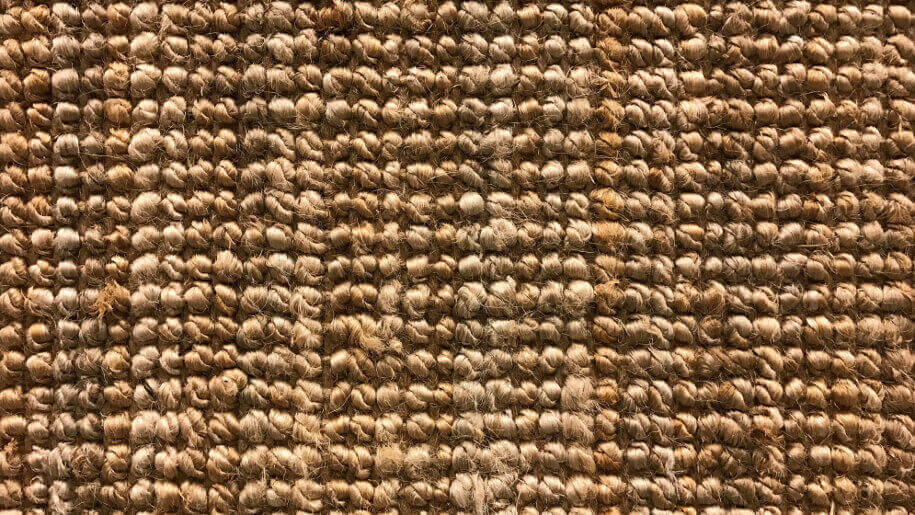 Sisal rugs are a modern solution that can enhance the look of your home and add a touch of nature to your space. They are very durable and versatile, which means you can enjoy them in any room of your home. High traffic areas, like hallways and living rooms, are a great choice for this type of rugs.
In spite of its durability, sisal rugs can still get stained and cleaning those spills can be a pain, if not done properly and in a timely manner. We are here to show you how to clean and maintain your sisal rug at home.
Table of Contents:
What Is Sisal and How Is It Made?
Sisal is a natural fibre made from the leaves of a specific cactus plant called Agave Sisalana. This plant is found in Central America, Brazil and Africa. Since it's a cactus, its leaves are very hard and require to be crushed, washed, and dried before they can be used.
When it comes to sisal rugs, there are two types – one made from synthetic fibre, such as nylon or wool bled materials; and the other natural fibre, made of plant products such as seagrass, paper, or coconut fibres.
Cleaning Sisal Rugs
Sisal is a very durable material and it's actually not as hard to clean as you may think. The dirt doesn't attach to the hard fibres, rather, it rests loosely on the weave. However, like most natural fibres, sisal doesn't do well when exposed to a lot of moisture. Due to that reason, it's best not to clean your sisal rug with water or place it in areas that receive constant wet spills, rain or snow.
How to Clean Stains Out of a Sisal Rug
Most people don't spill liquids on their carpet or rug on purpose. Things like that usually happen by accident. And as a general rule of thumb, if you spot a stain, you should attend it immediately.
It's important to never steam clean, wet shampoo or use any other method that involves water saturation on a natural fibre rug. We recommended dry cleaning method instead. What's the main difference between the two procedures you can learn from our Dry Carpet Cleaning vs Steam Cleaning post.

If you notice any stains or spills on your sisal rug, spot clean it as soon as possible before the stain sets in. Blot and do not rub the area with a clean, dry towel. Rubbing can work the liquid deeper into the fibres, making the spill more likely to stain. It can also spread the liquid to a larger area of the rug.
Some spills may require the use of water and small amоunt of detergent. If your rug comes with specific cleaning instructions, please follow them. Here's how to remove water-based spills out of your sisal rug using a DIY cleaning solution at home. What do you need:
A bucket
Water
Mild Soap
White vinegar
A cloth
A hairdryer
Steps to Follow
1
Fill a bucket with lukewarm water and mix it with a bit of mild soap. You can also use white vinegar instead of the soap. Use one part white vinegar to one part of water.
2
Take a dry cloth or paper towel to blot up as much of the spill as possible.
3
Moisten the cloth with the cleaning mixture and blot up the stain. Don't use too much cleaning solution to avoid spreading the stain.
4
Dry the rug quickly with a hairdryer.
How to Dry Clean Your Sisal Rug
Dry cleaning is considered to be the best option when it comes to cleaning natural fabric. This cleaning method doesn't involve the use of water. It's simple and you can do it at home using items you already have. Here's how you can dry clean your sisal rug at home. You will need the following items:
Bicarb soda or cornflour
A vacuum cleaner
Steps to Follow
1
Begin by sprinkling baking soda or cornflour on top of the rug.
2
Leave the powder to sit on the rug for about one hour in order to absorb all the dirt.
3
Shake the rug to remove excess powder.
4
Afterwards, use the upholstery brush to vacuum the rug.
To remove unpleasant smell from your sisal rug, take it outside and let it stay under sun for about one day. If the odours are caused by humidity, the dry heat will help remove them.

If you think you may damage your beautiful sisal rug or have doubts that you won't be able to clean it properly, it's best not to take any risks. Opt-in for a specialised dry cleaning treatment.
Regular Maintenance
If you want your sisal rug to keep its good looks for as long as possible, you need to clean it regularly. To remove accumulated dirt and debris, you can take your rug outside and shake it properly. Then, vacuum it to remove any remaining dirt.
If the size of your rug doesn't allow you to take it outside, vacuuming it once or twice a week will preserve its great looks and keep it clean. Make sure to put the vacuum at the highest setting and don't use the beaters, as they can cause more wear and tear to the fibres.
Tried to clean stains off a sisal rug but was unsuccessful?
Book a rug cleaning service and let the professionals handle it!
Takeaways
Make sure to check the label of your sisal rug to find out the best way to clean it.
Cleaning your sisal rug with water can leave stain marks that will be hard to remove afterwards.
Dry cleaning is your best option when you have to deal with natural fabrics.
Did you enjoy our article on cleaning sisal rugs? Do you have any questions or thoughts to add to the topic? Share your opinions in the comment section down below!
Last update: July 3, 2020
Posted in All Articles, Cleaning Guides
Fantastic Services is your one-stop shop for 25+ professional home cleaning and maintenance services, provided within Australia. Using high-grade equipment that is inaccessible to everyday households, the dedicated service specialists will gladly go the extra mile to turn your home or office into something truly special.