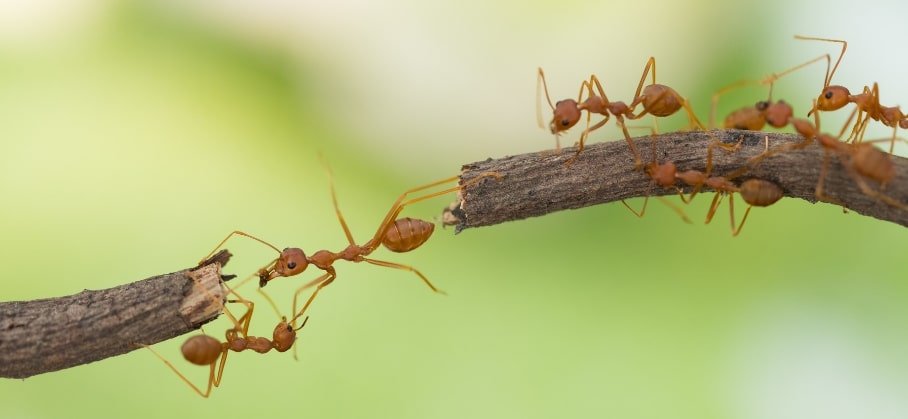 Ants. The social insects that can be found on almost every continent in the world are in abundance down here in Australia. From the bullet ant (delivering the most painful sting in the world) to the common black ant that infests your kitchen, Australia has it all.
So, let's take a look at the Australian species of ants that pose a threat to your home or garden, how they look, their lifecycle and habits.
Carpenter Ant (Camponotus sp)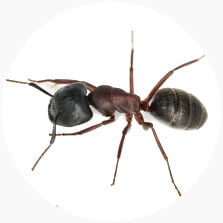 Being a fairly big genus of Australian ants, Carpenter ants are known for their knack of causing damage to the wooden structure of your home (hence they're commonly referred to as "wood eating ants).
While they can't cause the type of damage termites can if left undisturbed Camponotus sp infestation can lead to pretty expensive damage repairs.
---
---
For an in-depth guide on how to get rid of Carpenter ants read here.
Fire Ant (Solenopsis Invicta)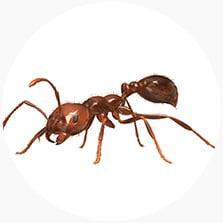 As you'll come to be aware, size isn't everything in the ant kingdom. Fire ants are small, exotic insects that can inflict a painful sting to humans. Exactly this is what makes them so dangerous to have them around your property.
If you come to encounter fire ants on your property, it's best to call professionals to handle them and to inform your local government, as they're very dangerous.
---
---
Green Ant (Rhytidoponera Metallica)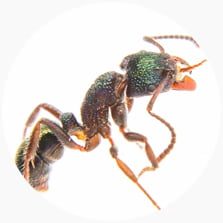 The green-headed ant (Rhytidoponera Metallica) is a species of Australian ants. The metallic pony ant has a painful sting and is also known to sting people. Though potent, the sting is fairly short-lived, so they aren't as dangerous as other ants.
(Keep in mind that the sting can still cause anaphylaxis in more sensitive individuals!)
---
---
Flying Ant (Alates)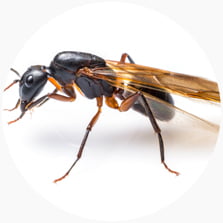 Finding flying ants in your home can be particularly scary. Not because they have a deadly sting, but more because they resemble termites, or equally worse, they may be carpenter ants.
See, all Australian ant species fly when they breed, so winged individuals could mean you have an ongoing infestation. For more information see Carpenter Ants.
---
---
Bull Ant (Myrmecia Gulosa)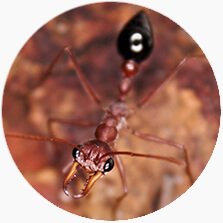 Bullet ants, bulldog ants, jumper ants – call them what you want, these little buggers are dangerous as hell! The Myrmecia Gulosa is a big species of Australian ants that are notorious for their painful stings and aggressive behaviour towards humans.
If you see a bull ant nest on your property, contact a professional pest controller to handle it.
---
---
Black House Ant (Ochetellus glaber)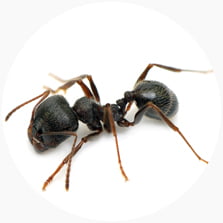 The everyday black house ant is one of Australia's most commonly found pests. After all, just leaving dirty plates around your house is enough to attract them.
If you start noticing black spots in and around your kitchen, you may have a black house ant infestation on your hands to deal with.
---
---
More information on how to get rid of black ants can be found here.
Argentine Ant (Iridomyrmex humilis)
Unlike other Australian ants, Argentine ants are known to displace native species. On top of that, they have multiple queens, which helps them breed rapidly and build huge colonies.
The most noticeable sign of an Argentine ant infestation is the trail of worker ants that it can be seen when they're looking for food.
---
---
Coastal Brown Ant (Pheidole megacephala)
Known for their incredibly invasive nature, the coastal brown ant is known for its quickly-built supercolonies.
Considered mainly to be a nuisance pest, this species can cause a mass infestation. They are known to have a sting that's not painful to humans.
---
---
Sugar Ant (Camponotus)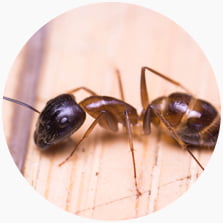 A nocturnal insect, you'll most likely encounter the sugar ant in your home in the evening or at night.
Worry not, as this species of ants is considered mainly a nuisance pest and despite their big size, sugar ants can't harm humans.
---
---
Pharaoh Ant (Monomorium pharaonis)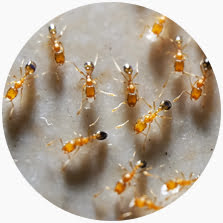 Believed to have plagued ancient Egypt, nowadays, Pharaoh ants are the most ubiquitous house ant in the world.
This small species of ants can be found almost on any continent, which makes them a common pest Down Under, too.
---
---
Ghost Ant (Tapinoma melanocephalum)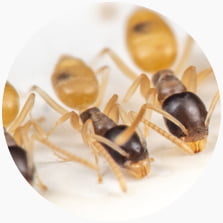 Small, translucent and emitting a specific rotten-coconut odour, ghost ants are commonly found in open packets of sugar and generally, in your kitchen pantry.
This makes them a common nuisance pest in Australian households.
---
---
Garden Ant (Lasius niger)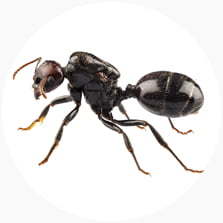 The garden ant is a native Australian species. Their colonies are known to grow up to 40,000 workers and some specimens apparently live up to 30 years.
This species farms aphids for their honeydew. Strawberries are known to attract them and they will feed on any fruit that doesn't have a thick protective skin.
---
---
Odorous Ant (Tapinoma sessile)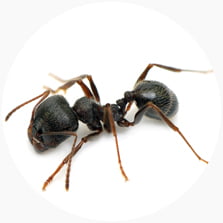 Known to infest houses, the odorous house ant is a close relative to the ghost ant and the sugar ant. In addition, these ants are most likely to enter your home after a heavy rain.
The stink ant can be found anywhere from North America to Australia, so let's go into a bit more detail about this six-legged creature.
---
---
Image source: Shutterstock/frank60
Posted in Pest Issues
Fantastic Services is your one-stop shop for 25+ professional home cleaning and maintenance services, provided within Australia. Using high-grade equipment that is inaccessible to everyday households, the dedicated service specialists will gladly go the extra mile to turn your home or office into something truly special.