Get instant help with pest control in Scoresby
The no-fuss, no-hassle way to book any pest control service.
Get full pest inspection, treatment, and prevention as part of your service
Available seven days a week
Certified local pest controllers
Complete your booking with two additional checks to guarantee pest removal
Book pest control in Scoresby in minutes
Log in and tell us where you live
Using this we can match you with a pest control professional in your area
Tell us about the pest problem
Give whatever information you can, describe what you've seen and heard.
Choose the best time
Select an appointment that suits you and reserve it. You might even be offered same-day service.
... and breathe out!
With your booking made, relax in the knowledge that all the necessary steps to cleanse your home will soon be underway.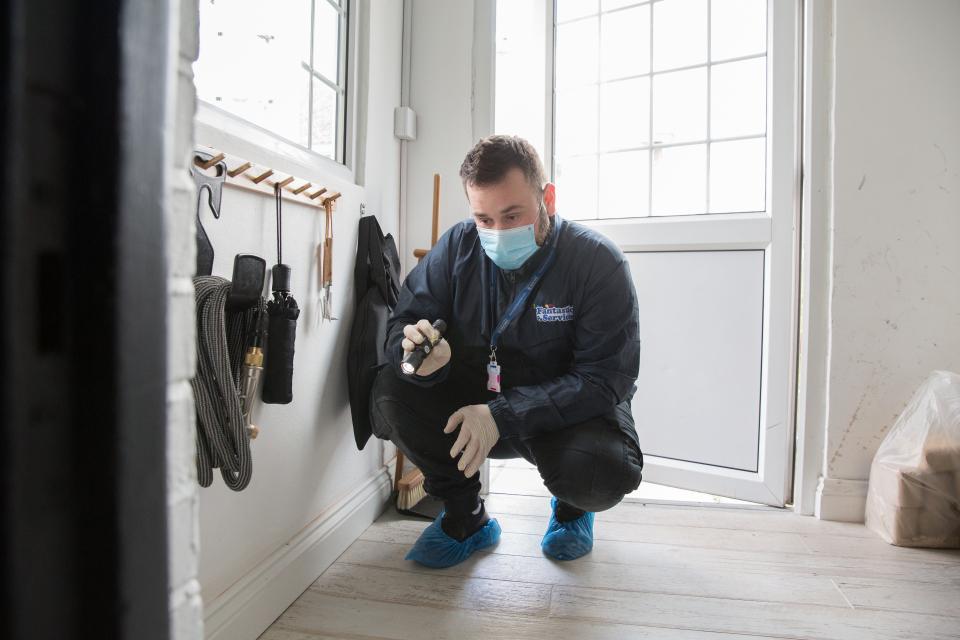 What happens when you book pest removal in Scoresby
Get a flawless and efficient pest removal service by the Fantastic exterminators!
Survey
Before starting the treatment the technician inspects the property to identify the pest, its location and the severity of the infestation.
Vermin-deterrent or pesticidal treatment
This could involve laying down rodenticides or insecticides as powder or bait or other indicated methods. Humane wildlife removal is also available to deal with squirrels, birds or possums.
Observation
Depending on the level of service you've chosen the pest controller will either arrange a date to return and assess the effects of the work or advise you on what to look for and when to expect to see results.
Preventative measures
Some pest-prevention work, such as sealing up easily accessible entry points, will be completed by the pest controller at your first visit. You'll receive a written report which will include advice on actions you can take to reduce the risks of future infestations.
Why Fantastic Services pest control in Scoresby is the one for you?
Your pest control solutions will always be provided promptly. Sometimes even on the day you call. You'll also benefit from:
Experienced and reference vetted technicians - You're careful about who you let into your home. So are we. For added security, our pest controllers wear uniforms and carry ID.
Guaranteed anti-pest solutions available - Opt for a single visit to nip problems in the bud, or an extended treatment program for severe infestations.
Emergency appointments - Contact us via the contact form, online chat, or by calling us on the phone if you have any questions about your pest control service.
Detailed instructions and advice - A checklist of actions you're advised to take to enhance the result of the pest removal service and keep yourself safe.
More information about some of the pest removal services we cover in Scoresby
Rodents control
Rodents are among the most troublesome pests, even more so as they can be harmful to human and pets' health. Luckily, your professional exterminators are experienced in successfully dealing with rats and mice. They will inspect and treat all potential hiding places and will set bait or traps. That's why, it's recommended to book a guaranteed service, which includes at least one follow-up visit so the exterminator can remove the bait along with the rodent during the second visit.
Crawling insect control
We're talking about bed bugs, ants, termites, spiders, and all the other crawling pests that cause such a nuisance in Australian homes. They spread extremely quickly and DIY techniques often make matters worse. To avoid a serious infestation, we recommend that you book a 3-step pest treatment and we will take care of everything so you don't have any more critters chewing through your favourite table, cable or cloth.
Flea control
Fleas generally enter properties thanks to pets, but can also be carried by rats or mice. Generally, health problems caused by fleas are mild - skin rashes, bite marks and itching, but they also have the potential to transmit diseases including typhus and plague. Domestic insecticides are often ineffective as fleas become resistant to them. Our technician will use professional products to exterminate the fleas and will also advise on things you should do to prevent a second infestation.
Insect control
From fleas to bed bugs, Fantastic Services provides effective and safe extermination of insects. Your technician will be a trained, certified and experienced professional who'll deliver the most appropriate treatment regime and advise you on any steps you should take to ensure that once the insects are gone, they stay gone.
*Data has been extracted from our internal database for the past 12 months
You can become a member of the Fantastic Club today and take advantage of all the amazing benefits that come with it, including discounted rates and special offers.
Real pest control quotes from Scoresby:
Can I please book an exterminator to come out to clear one of my NDIS participants properties as they currently have rodents in their ceiling? It's a small house - one bedroom
. Thanks.
...

More
Service: Mice control
Good day, I need a pest control treatment for my rental property, as we are moving out next week. It's a two-storey, 2-bedroom property. We have a dog and need flea treatment
to be included and also spider treatment. Send a quote, please.
...

More
Service: Flea treatment
Good afternoon, can you please assist me to arrange a pest treatment service for my one-bedroom flat. In my non-professional opinion we have a rodent situation here, however I
can't confirm for sure if that's the real problem. Please be quick in quotation, thank you!
...

More
Service: Mice control
How much does a pest control service in Scoresby cost?
The average cost for professional pest control in Scoresby is $309.
Almost 85% of our customers in Scoresby request a second (follow-up) visit.
1 in 5 customers becomes a member of our Fantastic Club and enjoys countless benefits!
Nearly 40% of our customers combine their pest treatment with a cleaning service!
*Data has been extracted from our internal database for the past 12 months
Start your own business in Australia
If you're looking for the chance to be your own boss, but also like the idea of getting lots of support from leaders in service industries check out the Fantastic Services franchise opportunities. We'd love to hear from you.
Pest control working hours and coverage
Local line: 1300 233 268
Email: scoresby@fantasticservicesgroup.com.au
Local office: Scoresby
Working hours
Monday

8am-6pm

Tuesday

8am-6pm

Wednesday

8am-6pm

Thursday

8am-6pm

Friday

8am-6pm

Saturday

8am-6pm

Sunday

8am-6pm
Our pest experts in action: