The quickest way to book pest control in Albion
Tell us where you are
Entering your zip code and address will enable us to locate your nearest pest control team.
Describe the pest issue
It's helpful if the technician knows something about the situation before they come, so tell us what you can.
Reserve an appointment time
Currently available slots are displayed so you can pick your time and date and secure your booking instantly.
You're on route to a pest-free property
The technician will inspect, confirm the problem and start the process of getting rid of your unwanted guests.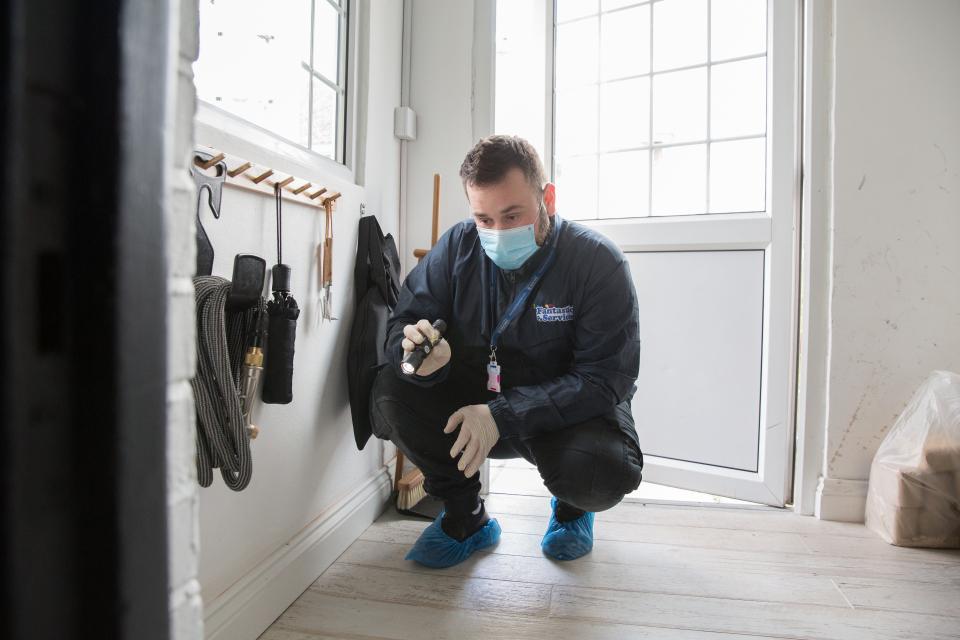 Frequently required pest removal services in Albion
Mice control
Mice exploit tiny entry points to gain access to your property. Once inside they eat and contaminate food and can cause damage to wood, electrical cables and other structural elements. They also tear up fabrics to make nests. Rodents spread disease too, either directly or through the fleas and ticks that often travel on them. Experienced pest control officers use highly effective rodenticides and set baited traps in a way that will draw in mice or rats. They'll also provide advice on rodent-proofing your property.
Ant control
Ants will enter your home in search of food. Once there they spread bacteria and if they set up a nest inside your property they can cause structural damage in ceilings, floors or walls and may compromise the safety of electrical wiring. Your pest control technician will treat your property inside and, if necessary, outside with insecticides that will be transferred by worker ants back to the queen, so killing the colony.
Bedbugs control
Until recently bedbugs were regarded mainly as an unpleasant nuisance. Some people don't even react to their bites though they can cause allergic reactions or trigger asthma in others. It is now known that bedbugs can carry MRSA so they should be regarded as a significant health hazard. Bedbugs are resistant to some common insecticides and cannot be killed in the egg stage. In line with the current code of conduct and industry standards for bedbug treatment, extermination is carried out over two visits using products known to be effective against these parasites.
Wildlife control
Strange noises in your roof or attic space could indicate rats but could also be a sign that vermin such as squirrels, birds, or even possums have moved in. Wildlife is humanely trapped and either removed from your property or, in the case of possums released outside the building but within 50 metres of the capture point, as required by law. Traps are checked daily until the animals are caught and your pest control technician will advise you on how to seal likely entry points to prevent the problem from reoccurring.
*Data has been extracted from our internal database for the past 12 months
You can become a member of the Fantastic Club today and take advantage of all the amazing benefits that come with it, including discounted rates and special offers.
Real pest control quotes from Albion
Good afternoon, can you please assist me to arrange a pest control for my one bedroom flat. In my humble opinion we have a rodent situation here, however I can't confirm for s
ure if that's the real problem. Please be quick in quotation, thank you!
...

More
Service: Mice control
I was wanting to organise a one-off pest control for one of my NDIS participants as there are moths throughout the entire house. They are literally everywhere, so have in mind
that the treatment can take longer than usual. Please advise on how to proceed.
...

More
Service: Moths control
I am contacting on behalf of my client who is NDIA managed and who requires assistance for a bed bug problem at their property. Could you provide a quote please? It is a one b
edroom apartment, I am not sure of the condition of the flat. Please contact to discuss further or with any queries!
...

More
Service: Bed bugs treatment
How much does pest control in Albion cost?
The average cost for professional pest control in Albion is $314.
Almost 75% of our customers in Albion request a second (follow-up) visit.
1 in 5 customers becomes a member of our Fantastic Club and enjoys countless benefits!
Nearly 40% of our customers combine their pest treatment with a cleaning service!
*Data has been extracted from our internal database for the past 12 months
Start your own business in Albion
Looking to start your own business? If the property management sector appeals to you check out the benefits offered with the Fantastic Services franchise. You'll get lots of support to turn your plans and dreams into a profitable enterprise. Join us!
Albion pest control working hours and coverage
Local line: 1300 233 268
Email: albion@fantasticservicesgroup.com.au
Local office: Albion
Working hours
Monday

8am - 6pm

Tuesday

8am - 6pm

Wednesday

8am - 6pm

Thursday

8am - 6pm

Friday

8am - 6pm

Saturday

8am - 6pm

Sunday

8am - 6pm
Postcode coverage: 3020
Other locations we cover nearby Albion