Get fast help with pest control in Mordialloc
Pest problems? No problem! Just call in the professionals for fast pest control solutions.
Key collection and drop-off can be arranged
Qualified local technicians
24/7 booking option with 7-day availability.
Add two follow-up visits to ensure complete removal
Stay online to get pest control in Mordialloc
Start by giving your location
Just enter your zip code and address and we'll find vetted local experts for your service.
Describe the pest problems you have
Give us as much information as you can - anything you have seen, heard, smelt or found around the premise.
Choose a day and time
Select an appointment that suits you and reserve it. You might even be offered same-day service.
Press the submit button
The technicians will arrive as scheduled and take the steps required to resolve your pest problem.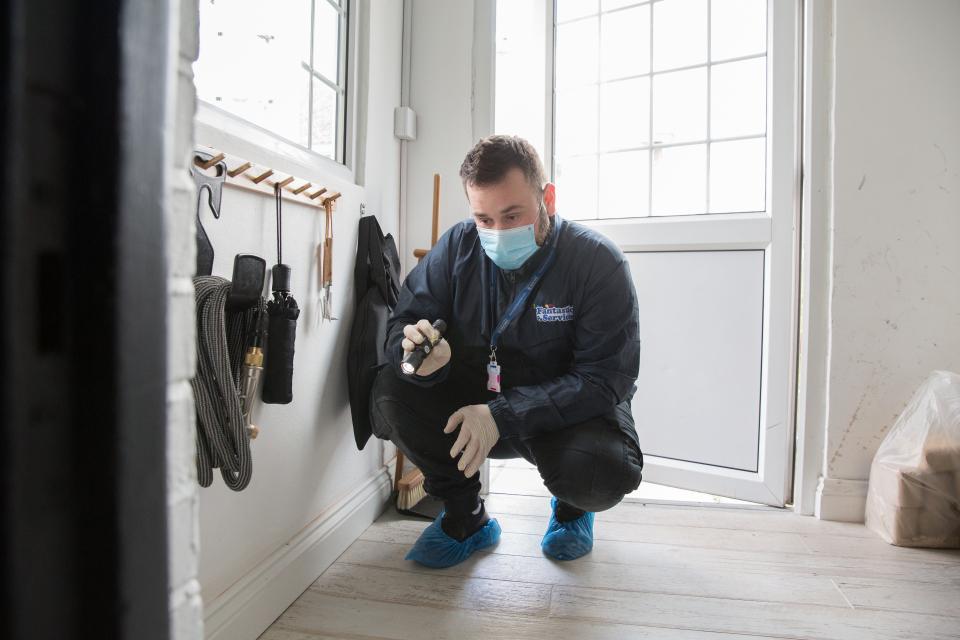 How we do pest control in Mordialloc - our process explained
Rely on fully vetted and reference-checked staff who deliver guaranteed results
Survey
To understand the type of pest, the degree of infestation and why it happened.
Vermin-deterrent or pesticidal treatment
Once the inspection is performed, the most appropriate treatment will be chosen. Depending on the type of infestation and its severity, the pesticides used may include spray, powder, aerosoles, as well as other pesticidal products if needed. Baits are also used if applicable.
Observation
Depending on the service you've requested a follow-up visit may be booked or you'll be advised on how to monitor the effects of the treatment.
Prevention
You'll receive a written report. This will detail everything done to date, anything you should do to maximise the efficiency of the treatment and actions you can take to reduce the risk of a second pest invasion.
What makes our pest control in Mordialloc so great
Book pest control by Fantastic Services to be certain your work is completed by a certified and vetted technician, you also gain:
Detailed instructions and advice - Your technicians will explain every step they take and anything you should do to ensure the work they complete is effective.
Book same-day and emergency extermination - Make your pest treatment happen at the time you need it to. Even if that time happens to be later today!
Fully insured provider - Professionals work according to industry approved standards using the most effective products available to resolve the pest problem.
High company standards - Book a one-off visit at the first sign of a problem or a guaranteed service for serious infestations.
See some of the popular pest removal services we provide in Mordialloc
Spider control
Let our experts remove any spiders you are having trouble with inside or around your property to make sure that the problem is solved safely and effectively. You will also get advice on preventing infestations in the future. Not to mention prevention and proofing treatments.
Cockroach control
Cockroaches are most frequently found in kitchens but in severe cases can be anywhere on the property. They contaminate food, carry bacteria and other pathogens and represent a significant hazard to health. The insect exterminator will generally use gel baits to eliminate cockroaches as these deliver the insecticide directly to the target population without contaminating food or work surfaces. When infestations are treated early, cockroach control can sometimes be concluded in a single visit.
Wasp and bee removal
Removing stinging insects yourself can be risky, especially if the hive has been established for some time and the colony has reached large numbers. Keep yourself safe by hiring an experienced pest exterminator who has the tools and safety equipment needed to remove bees or wasps from your property.
Flying pests
Flying insects, such as mosquitoes, flies, moths, and wasps, can be very difficult to deal with. They can enter your home at any time and are really hard to eradicate once they have settled. DIY solutions rarely help, so we advise our customers to leave the treatment to the experts. Our eco-friendly and pet and child safe pest solutions have long-lasting effects.
*Data has been extracted from our internal database for the past 12 months
You can become a member of the Fantastic Club today and take advantage of all the amazing benefits that come with it, including discounted rates and special offers.
Real pest control quotes from Mordialloc:
Hello, Can you please give me a quote for a flea treatment of 2-bedroom house? I need the treatment as per end of lease requirements in the contract. Can you do next week? Tha
nk you!
...

More
Service: Flea control
Can I please book an exterminator to come out to clear one of my NDIS participants properties as they currently have mice in their ceiling? It's a small house - one bedroom. T
hanks.
...

More
Service: Mice control
Doing move out cleaning. Need pest control after that. It's about 2-bedroom house. Could you please send me available slots fo the next week by email? What will be the price o
f the service?
...

More
Service: Move out pest control
How much does a pest control service in Mordialloc cost?
The average cost for professional pest control in Mordialloc is $319.
Almost 85% of our customers in Mordialloc request a second (follow-up) visit.
1 in 5 customers becomes a member of our Fantastic Club and enjoys countless benefits!
Nearly 40% of our customers combine their pest treatment with a cleaning service!
*Data has been extracted from our internal database for the past 12 months
Want to become a pest control business owner in Mordialloc!?
Get everything you need to open and grow your own business! The proven processes. Award-winning online marketing strategies handled on your behalf. Find out more today.
Pest control working hours and coverage
Local line: 1300 233 268
Email: mordialloc@fantasticservicesgroup.com.au
Local office: Mordialloc
Working hours
Monday

8am-6pm

Tuesday

8am-6pm

Wednesday

8am-6pm

Thursday

8am-6pm

Friday

8am-6pm

Saturday

8am-6pm

Sunday

8am-6pm
Our pest experts in action: